Synology DiskStation DS210j + Disk Station Manager 3.0 beta
Introduction
I know everyone is waiting to get a glimpse of the newly release Disk Station Manager 3 (DSM 3.0) from Synology so keep reading as we go through the nitty gritties of this totally revamped Disk station manager installed in a DiskStation DS210J Budget-friendly 2-bay NAS server for Home and Small Business users.
Featuring a 800Mhz CPU with 128MB RAM the DS210J is ideally suited for SOHO users. The NAS sports 2 drive bays and can hold either 2 x 3.5" hard drives or 2 x 2.5" hard drives with a total hard drive capacity of 2TB each. (4TB in total).
Synology have come a long way since they first introduced their NAS systems into the market. The last review Technoyard did was on their CS407 and it's certainly impressive the strides they have made since then in giving users the ultimate experience. The DS210J supports the usual bells and whistles Synology's new NAS boxes support and some eye catching features include:
* RAID Volume Management
* iSCSI Target (Click here for a brief explanation of this feature)
* Server Backup
* USBCopy – You can connect the USB drive into the DS210J and backup data to and fore
* Desktop Backup
* iPhone/Mobile Access – DS audio, DS photo and DS cam are now available on Apple App Store
* iTunes Server
* DLNA Media Server
* Schedule Power On/Off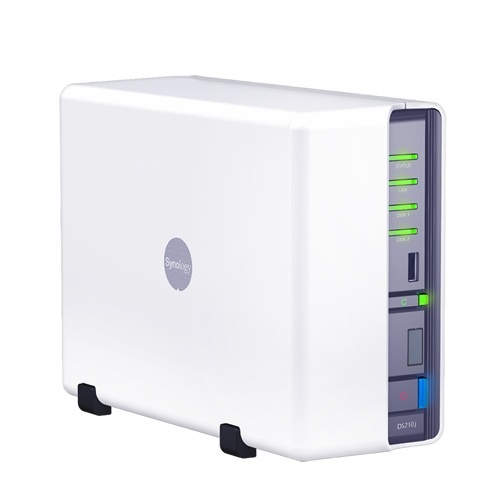 Full specifications of DS210J
Hardware
---
CPU Frequency: 800MHz
Hardware Encryption Engine
Memory Bus: 16bit@DDR800
Memory: 128MB
Internal HDD1: 3.5″ SATA(II) X2 or 2.5″ SATA/SSD X2
(with the Disk Holder)
Max Internal Capacity: 4TB (2x 2TB hard drives)9
(

See All Supported HDD

)
Size (HxWxD): 161mm X 88mm X 218mm
External HDD Interface: USB 2.0 port X3
Weight: 0.98kg
LAN: Gigabit X1
Wireless Support11

Fan: X1(70mmX70mm)
Noise Level:2 20.8dB(A)
Power Recovery
AC Input Power Voltage: 100V to 240V
Power Frequency: 50Hz to 60Hz, Single Phase
Power Consumption3: 25W(Access); 10W(HDD Hibernation)
Operating Temperature: 5°C to 35°C (40°F to 95°F)
Storage Temperature: -10°C to 70°C (15°F to 155°F)
Relative Humidity: 5% to 95%RH
Maximum Operating Altitude: 10,000 feet
Certification: FCC Class B, CE Class B, BSMI Class B
Applications
---
File Station 3

FTP Server

Bandwidth Control
Custom FTP Passive Port Range
Anonymous FTP
Transfer Log

Web Station

Virtual Host (up to 30 websites)
PHP/MySQL
Alternative HTTP Error Page
3rd-Party Applications Support

Surveillance Station 4

Photo Station 4

Supported Image Format: BMP, JPG (jpe, jpeg), GIF, RAW (arw, srf, sr2, dcr, k25, kdc, cr2, crw, nef, mrw, ptx, pef, raf, 3fr, erf, mef, mos, orf, rw2, dng, x3f)
Supported Video Format5: 3G2, 3GP, ASF, AVI, DAT, DivX, FLV, M4V, MOV, MP4, MPEG, MPG, QT, WMV, XviD, RM, RMVB, VOB, RV30, RV40, AC3, AMR, WMA3

Download Station 2

Supported Download Protocols: BT/HTTP/FTP/NZB/eMule
Custom BitTorrent Port Range
BitTorrent / eMule Bandwidth Control

Audio Station 2

Supported Audio Format: (USB Mode) AAC, FLAC, M4A, MP3, Ogg Vorbis, WMA, WMA VBR; (Streaming Mode) MP3, M4A, M4B
Supported Playlist Format: M3U, WPL
Internet Radio: SHOUTcast, Radioio

DLNA/UPnP Media Server

PS3/Xbox 360 Support
Supported Audio Format: AAC, FLAC, M4A, MP3, Ogg Vorbis, PCM, WAV, WMA, WMA VBR, WMA PRO, WMA Lossless
Supported Video Format: 3GP, 3G2, ASF, AVI, DAT, DivX, DVR-MS, ISO, M2T, M2TS, M4V, MKV, MP4, MPEG1, MPEG2, MPEG4, MTS, MOV, QT, SWF, TP, TRP, TS, VOB, WMV, XviD, RV30, RV40, AC3, AMR, WMA3
Supported Image Format: BMP, JPG (jpe, jpeg), GIF, ICO, PNG, PSD, TIF (tiff), UFO, RAW (arw, srf, sr2, dcr, k25, kdc, cr2, crw, nef, mrw, ptx, pef, raf, 3fr, erf, mef, mos, orf, rw2, dng, x3f)
Supported Subtitles Format: srt, psb, smi, ass, ssa, sub, idx, ifo

iTunes Server

Supported Audio Format6: MP3, M4A, M4P, WAV, AIF
Supported Video Format: M4V, MOV, MP4
Supported Playlist Format: M3U, WPL

Printer Server7

Max Printer #: 2
Printing Protocols: LPR, CIFS, AppleTalk

Synology Packages

SqueezeCenter
Mail Station
Webalizer
phpMyAdmin

iPhone Applications
General Specifications
---
Networking Protocols

CIFS
AFP
FTP
iSCSI
Telnet
SSH
NFS
SNMP

File System

EXT3
FAT32 (External Disk Only)8
NTFS (External Disk Only)8

Volume Management

Synology Hybrid RAID
iSCSI Target (Max size: 16TB):10
Volume Type: Basic, JBOD, RAID 0, RAID 1
RAID Migration: from Basic to RAID 1
Expand RAID 1 volume with Larger Hard Drives

File Sharing Capability

Max User Accounts: 512
Max Groups: 128
Max Shared Folder: 256
Max Concurrent Connections(SAMBA, FTP, AFP): 64

Windows ADS Domain Integration

Domain Users login via Samba/AFP/FTP/File Station

Backup Solutions

Network Backup
Local Backup
Desktop Backup (using Synology Data Replicator 3 or Apple Time Machine backup application)
USBCopy
3rd-Party Backup Support

Management

DSM Upgrade
Email Notification
SMS Notification
Customized User Quota
DDNS Support
PPPoE
Resource Monitor
UPS Management
Scheduled Power On/Off
Custom Management UI HTTP/HTTPS Ports
System Temperature Display

Security

FTP over SSL/TLS
IP Auto-Block
Firewall
Encrypted Network Backup over Rsync
HTTPS Connection

HDD Management

HDD Hibernation
S.M.A.R.T.
Dynamic Bad Sector Mapping

Utilities

Synology Assistant
Synology Download Redirector
Synology Data Replicator 3

Supported Clients

Windows 2000 onward
Mac OSX 10.3 onward
Ubuntu 9.04 onward

Supported Browsers

Internet Explorer 7
Internet Explorer 8
Firefox 3
Firefox 3.5
Safari 3 (Mac)
Safari 4 (Mac)

Supported Mobile Devices
(Photo Station, File Station)

iPhone OS 2.2.1 onward
Windows Mobile (IE Mobile or Opera 9.0 onward)
Symbian OS 9.1, S60 3rd Edition onward

Language

Czech, Danish, Dutch, English, French, German, Hungarian, Italian, Japanese, Korean, Norwegian, Polish, Portuguese Brazil, Portuguese European, Russian, Simplified Chinese, Spanish, Swedish, Traditional Chinese, Turkish
Environment and Packaging
---
Environment

Package Content

DS210J Main Unit
Installation CD
Assembling Kit
Welcome Note
AC Power Adapter
2M RJ-45 LAN Cable

Optional Accessories

Remote
Camera License Pack
___
1. Hard drive not included.
2. Fully loaded with Seagate 1TB ST31000520AS hard drive(s) in operation; Two G.R.A.S. Type 40AE microphones, each set up at 1 meter away from the DiskStation front and rear; Background noise: 17.2 dB(A); Temperature: 23.6?; Humidity: 58.2%; More details about dB(A) value, check
http://www.quietnoise.com/facts.htm
3. Measured with 2 Seagate 750GB ST3750640N hard drive. The figures could vary on different environments.
4. 1 free license to install 1 IP camera. Additional licenses can be purchased to expand the license quota.
5. User can click and download the following video formats: RM, RMVB, VOB, RV30, RV40, AC3, AMR, WMA3, but not able to play it in Photo Station as compressed Flash video.
6. The music in WAV and AIF format can be streamed, but the metadata (ex: title, album) may not be indexed on the iTunes.
7. For Mac users, DS210J supports PostScript USB printers only.
8. Primary partion only.
9. The actual capacity will differ according to volume types.
11. Wireless dongles not included. Please check http://www.synology.com/ for supported wireless dongles.
Specifications are subject to change without notice.