Ozone Onda 3HX Gaming Headphones
Ozone Gaming may not be the first company that springs to mind when you think about headphones, however they are one of the leading gaming peripheral manufactures in the European market. Evolution is a concept the whole company revolves around and introducing unique and gamer friendly devices is what they strive at.
With the stiff competition we see today in the gaming industry and high expectations from gamers themselves it's no easy task to survive in this market. Innovation and evolving products to meet changing needs is what is expected, so lets see how well Ozone Gaming's Onda 3HX Gaming Headphones standout.
Technical Specifications:
MICROPHONE
Directivity: Omnidirectional
Impedance: =2.2KO
Sensitivity: -54dB±3dB
HEADPHONES
Driver Dimensions: ø40mm
Impedance: 32O
Frequency Response: 20~20kHz
Sensitivity (SPL): 117dB±4dB
GENERAL
Cord Length: 300±10 cm
Plug: USB + 3.5 mm jack (headphones + mic)
RCA to mini jack adaptator (female)
Net Weight: 345g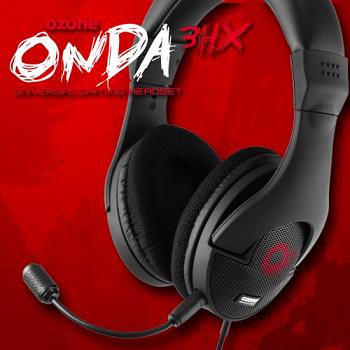 ---
Ozone Onda 3HX – Product in detail
The OZone Onda 3HX is packaged in a very elegant looking box with a red and black color theme. The packaging is detailed enough for anyone to understand the capabilities of the headphone which is always good before you buy any product.
Opening up the box you're offered with the Onda 3HX, 3.5 to 3.5mm cable for headphone and mic, 3.5mm (female) to 2 RCA connectors. I must say the initial look of the Onda 3HX is very positive. The overall design of the headphone is excellent; the headband is made of very soft synthetic material that feels extremely soft to the touch and has a rubber coating on the sides giving that extra nice feel and elegance to the unit.
The ear pads are very soft and exactly as advertised. Comfort is one of the top most critical aspects for a good gaming headset as you'll be wearing them for many hours at a stretch. Furthermore the Onda 3HX weighs in around 345g so you would hardly feel it around your head. Comfort and design wise the Onda 3HX certainly deserves a 9/10 rating.
The omnidirectional MIC on the Ozone Onda 3HX is flexible and can be bent to suite your ideal position. The MIC is mounted on the left ear-piece and can be removed and re-attached on the fly as needed just like any 3.5mm jack.
The Onda 3HX is capable of being used on multiple systems such as PC, XBOX and PS3 and simply to cater to the consoles Ozone Gaming have included quite a thick sleeved 3m long cable which is ample length to play from your couch.
The Controller box is quite big and contains Volume, mode and MIC controls. The MIC button is placed on top of the controller box with a LED indicator light to show when it's on/off. The volume and Game mode controls are set on the side of the unit.
---
Sound Quality and Game play
The Ozone Onda 3HX has been designed for gaming, however we tested the headset on music performance as well just to see how well they standout. So first we proceeded to test the Music audio quality by playing a few dance tracks and one of my all time favourites, the Eagles Hell Freezes Over album. After a couple of hours of continuous music play I would give the Onda 3HX a 6/10 score. The Onda 3HX produced rich bass however lacked the depth to my liking. The highs and mid tones were above average for a headset in this price range.
Next we moved onto testing a few games on the PC and a PS3. In this instance our experience was far better than our experience testing music alone. Overall there was good clarity and the MIC seemed to perform exceptionally well. Game play was considerably improved as the Onda 3HX produced good bass and reproduced all sound elements within the game in its true form. The game mode button on the controller box wasn't very effective from our experience so you're better off keeping it on standard settings. Overall I would give the Ozone Onda 3HX a 7/10 score for game play performance.
Conclusion
Having used the Ozone Onda 3HX for a couple of weeks now I must say it's a well rounded product. It's offered at a reasonable US$60-$70 price range which competes well with the mid range headset market. Ozone Gaming have placed great emphasis on the build quality of the Onda 3HX and comfort wise we cannot say anything negative as it's as good as it gets. Furthermore the fact that the Onda 3HX can be used on multiple platforms puts the icing on the cake. There's no major downside to this headset apart from its mediocre sound quality however given the price of the Onda 3HX it's great value for money.
If the reason you're buying a headset is mainly for audio, then the Onda 3HX may not satify. On the other hand it's a great performer when it comes to gaming and if you want to use the same device on multiple platforms, the Onda 3HX is definitely worth a look.
A big thanks goes to Rogelio Galvín of Ozone Gaming for providing us with this review sample.