Tagan 2 Force II 900W Cross Fire certified Power Supply Unit
Introduction
So you go out and buy the best CPU, Hard Drive, Memory and Video card out there but have you ever wondered what makes all these devices work at its optimum levels? Well if you hadn't given it much thought, it's your power supply. That's right, that measly looking metal case which powers your whole system has a lot to do with how your system performs end of the day when you require hardcore performance out of your PC. A power supply can make or break how well your system performs, so choosing the right one is as important as other system components to ensure a good stable system.
Power supplies have come a long way considering what used to be offered in the past. Today you will see many power supplies that come with the statement SLI certified or Cross Fire certified. This means that nVidia and ATI respectively have tested these power supplies on their test beds and have certified them to be of standard. However don't consider this as gospel for a good PSU but consider it as an added benefit.
(Update 25th May 2007): We recevied the following document from Nanopoint which shows the AMD crossfire certification and their testing procedures used. Click here)
Today we bring to you one goliath of a power supply by Nanopoint the TAGAN 2-Force II 900W Power supply (TG900-U33 (900W)). This PSU has enough power up its sleeve to power the most powerful systems you can get your hands on in today's market.
TAGAN PSU units have gained much popularity in the recent months for their outstanding performance so we can't wait to see how their newest model the 2 Force II series performs. If you haven't heard of Nanopoint, the manufacturer of TAGAN PSU's here's a blurb off their website.
"NanoPoint Taiwan was founded in April 2004, a subsidiary of MaxPoint GmbH in Germany. The principal products are data storage, power supply units, radiator of coolings, ventilators, the thermal products, mobile racks, computer chassises & modings, and other peripherals. We mainly focus on computer pheripherial invention and research. Meanwhile,the relationship between joint-venture with factory, the products manufactured from NanoPoint Taiwan are not only made by shelf-own mold tooling but requests quality control in order and more serious, which keeps them more competent and met to demand from the market!"
Let me go through the specifications of this beast before going onto more details. The packaging we received the TAGAN TG900-U33 (900W) wasn't in their retail packaging nevertheless expect to see something flashy when its in stores.

Specifications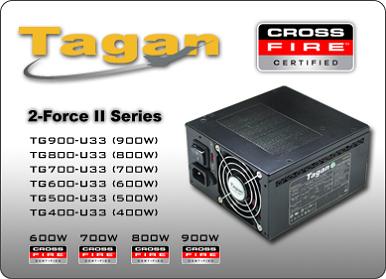 *Specs taken direct from Nanopoint website
All range series from entry level to heavy user. (400W~900W)
(20+4)PIN patent motherboard connector for 20pin and 24pin sockets.
12V (4+4)PIN patent CPU power connector for 4PIN and 8PIN sockets.
PCI-E (6+2)PIN supports present PCI-E 6PIN and future PCI-E 8PIN specification of graphic card. (500W~900W)
TG800/900-U33 has four cables of PCI-E for super high-end graphic cards
Copper-shielding PCI-E cables with patent REMI technology to reduce ripple and noise and enhance display performance.
Unique ground wire with golden pin can release static electricity from power supply and avoid damage.
Internal OVP (Over Voltage Protection) and OCP (Over Current Protection) function avoids sudden power surge damage peripherals.
Universal AC input range for all countries: 100~240VAC with active PFC for better electricity performance.
80%+ electricity efficiency average saves money and reduces losing power because of heat.
Manual +12V rails "TURBO" mode can integrate +12V rails into single rail with more DC output for heavy +12V loading.
TSCT (Tagan Silence Control Technology) keeps under 30dBA even full-loading and hard to recognize by human ear
Thermal control fans are adjustable automatically by temperature inside of the power supply. Fan speed up when temperature rises
Black mesh and copper-shielding cables help user to optimize airflow for thermal release.
Special outlook for blowhole design with Chinese cut for window decoration.
I/O switch with water-proof cover avoid water and dust adhesion.
Embedded AC socket without screw avoid interference with PC case.
400~500W: 2 rails of +12V, ATX12V Ver.2.2
600~700W: 4 rails of +12V, over ATX12V Ver.2.2 and meet EPS12V Ver.2.91
800~900W: 6rails of +12V, over ATX12V Ver.2.2 and EPS12V Ver.2.92
Independent +12V rails only for graphic card power meet configuration of Nvidia and ATI